Why we started IHateCleaning.ae
21.10.22
You've probably tried many cleaning companies over the years. So had we. The quality wasn't always consistent, but the prices were always low, so we kept going back to them anyway.
After a while, we began to question how in this cleaning price war these companies still made money and paid their cleaners a living wage, with fair benefits.
So, we started talking to the cleaners assigned to our own office. We quickly realised the cleaners were not being treated fairly at all.
We heard stories of delayed wages, or no pay at all. Visas not issued, or visa costs deducted from the cleaners' pay. Passports withheld. Basic health insurance no longer a basic right. And no leave flights home for years at a time.
That's when we decided there was an opportunity to do things better. Much better. To create a cleaning company that treated its cleaners as competent business partners, with respect and decent benefits.
We wanted to create a high-quality cleaning company, with the best German cleaning technology and training, where our customers can trust the cleaners like one of their family.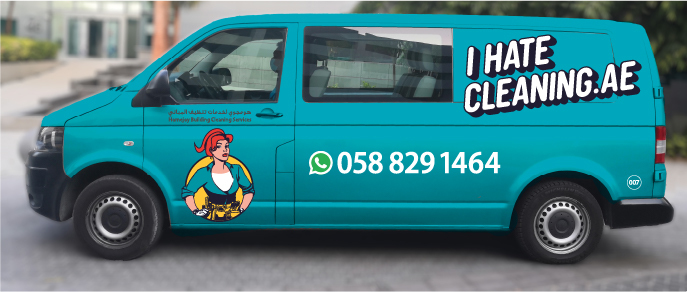 That's why we started IHateCleaning.ae. And from day one, we made sure each cleaner got paid on time, every time. Even in the depths of the Covid lockdown, when we had no bookings at all, our cleaners were still paid in full. After all, they all had families to look after back home.
To ensure the long-term health of our cleaners, and our customers, we decided to use only all-natural cleaning products and high-pressure steam – instead of cheaper, toxic cleaning chemicals.
And with power and water saving equipment, we also made sure we were doing our part for the planet. After all, when there's no planet left there'd be nothing left to clean – and that's bad for business.
Today, three years on, there are still many challenges. Some customers simply don't realise how badly cleaners are treated. International businesses who think that employing cleaners earning a few dirhams a month, somehow fits their carefully crafted sustainability strategy.
Or prospective customers who think that IHateCleaning.ae is just another run-of-the-mill cleaning company and try to negotiate our rates down to match others in the market.
We wanted to get our story out there, so people who want to support a cleaning company that places its own cleaners at the heart of its business, know they can reach out to us.
We still have many loyal customers who've been with us since day one. Without their encouragement this journey would never have been possible. They're an amazing bunch of people and we want to say a huge thank you to each one of them.
Increasingly our focus is commercial cleaning, for companies who are prepared to pay a little more for our five-star service and the good feeling that their payments are reaching the good people doing the work.
When you're trying to care about your staff and look after the planet, you don't get it all right all the time. But one thing's for sure: we're determined to change the cleaning sector for good.